Amber Keating, LCSW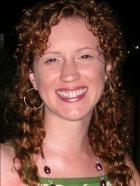 Amber Keating, LCSW, is the owner and founder of Soulful Healing, a wellness company that blends traditional psychotherapy techniques with the yoga concepts of mindful breath and movement.
Amber is a Licensed Clinical Social Worker and Professional Yoga Therapist.
She particularly enjoys guiding clients and students in an exploration of their spiritual values and helping them create a new vision for their life.
Always a social worker at heart, Amber believes in helping others discover their strengths and empowering them to find their own path to whole person health.
Last Updated:
October 8, 2012