Andy Doan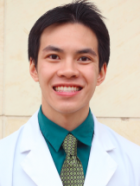 Andy Doan is a fourth-year pharmacy student at The University of Texas at Austin College of Pharmacy. He completed his pharmacy prerequisites at The University of Texas at Austin. He grew up in Winnipeg, Manitoba in Canada and went to high school in Round Rock, TX.
Andy has been working in a community pharmacy setting for the past four years. He also volunteered with The Kind Clinic (previously the Austin PrEP Access Project), where he helped provide patients with the resources to get on HIV pre-exposure prophylaxis and other sexual health services for the LGBTQIA community.
Andy's "little kid dream job" was to be a teacher and he always loved science. Pharmacy was the perfect mix of both worlds for him, and he is passionate about health outreach, education, and patient advocacy. By building strong relationships with his patients, Andy hopes to be a friend and life-long resource to optimize health outcomes. Andy hopes to continue working in community pharmacy and focusing on his interests in immunizations, sexual health, adherence and medication therapy management, and lifestyle implementation of non-pharmacologic therapy.
Last Updated:
February 20, 2019