A&O Peninsula Pharmacy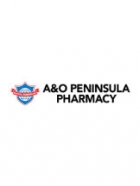 Visit:
A&O Peninsula Pharmacy is located in Burlingame, California.
Some of the services we provide include:
Lowest Cash Prices (We match/beat every competitor in the area.)
Friendly & Prompt Service
Referral Program (Please call for details.)
All major insurances accepted
Flu Shot Services
Knowledgeable & Compassionate staff
Compounding Services available
Diabetes Education provided
Bilingual staff available (English, Urdu, Punjabi, Hindi, Tagalog & Spanish)
Too busy to pick up a prescription…A&O Pharmacy can help…We can bring the prescription to you & consultation is provided over the phone!!!
Phone Number: 650-692-6569
Address: 1828 El Camino Real #104, Burlingame, CA 94010
Map: click here
Last Updated:
November 13, 2013