Boalsburg Apothecary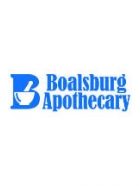 Visit:
The Boalsburg Apothecary is a small locally-owned pharmacy located in a medical building near Boalsburg, PA.
We have a small dedicated staff of pharmacists and technicians who pride themselves in giving personal and professional service to our patients.
We are the only pharmacy in the Centre Region that has the training and resources to compound special medications for children, adults and your pets.
As one of the few remaining independent pharmacies in Central Pa we strive to continue the traditions of pharmacy as it was meant to be practiced. We don't use automated phone systems, we are accessible for your questions, and we don't have long wait times for prescriptions. We will work with you and your doctor to find solutions to your medication needs and not simply respond that we don't have it.
Phone Number: 814-466-7936
Address: 3901 South Atherton Street, State College, PA 16801
Map: click here
Last Updated:
November 7, 2013