Contributing Experts
Christina M. Puchalski, M.D., M.S., F.A.C.P.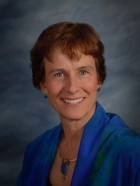 Visit:
Christina Puchalski is a pioneer and leader in the movement to integrate spirituality into healthcare in both the clinical setting and in medical education. As Founder and Director of the George Washington Institute for Spirituality and Health (GWish) at The George Washington University in Washington, D.C., she continues to break new ground in the understanding and integration of spiritual care in a broad spectrum of healthcare environments.
The spiritual assessment tool, FICA, which she developed, is used widely in clinical settings around the world. Medical education has been impacted in this country by a GWish-run awards program that offers financial grants to medical schools to establish a spirituality component in their curriculum. All of these programs and activities have encouraged the development of a patient-centered perspective in healthcare.
Dr. Puchalski is a Professor of Medicine and Health Sciences at The George Washington University School of Medicine. She is an active board-certified clinician in Internal Medicine and Palliative Care. She has received numerous awards. In May 2011 she received the Outstanding Colleague Award from the National Association of Catholic Chaplains for her support of the profession of chaplaincy and her advocacy for the expertise of the board certified chaplain on the multidisciplinary care team. Among her other awards is the 2009 George Washington University Distinguished Alumni Award, given in recognition of her scholarship and leadership. She is a Fellow of the American College of Physicians and a member of Alpha Omega Alpha (AΏA) medical honor society. She also is a member of a contemplative lay order, The Secular Discalced Carmelites.
Widely published in journals with work ranging from biochemistry research to issues in ethics, culture, and spirituality and healthcare, Dr. Puchalski also has authored numerous book chapters and published a book with Oxford University Press entitled "Time for Listening and Caring: Spirituality and the Care of the Seriously Ill and Dying." Most recently she published "Making Health Care Whole" through Templeton Press. Her work has been featured in numerous print and television media. Forthcoming in 2012 is the The Oxford Textbook of Spirituality and Health Care, an international, multi-disciplinary volume she co-edited.
Dr. Puchalski is first and foremost a clinician. The cornerstone of her practice in internal medicine and geriatrics is integrating patients' spiritual beliefs into their care, and addressing sensitive medical issues facing seriously ill patients. Dr. Puchalski's work in the field of spirituality and medicine encompasses the clinical, the academic, and the pastoral application of her research and insights.

Last Updated:
May 30, 2013