Conefrey's Pharmacy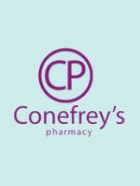 Visit:
Conefrey's Pharmacy was established in 1955 by the late Caillin 'Con' Conefrey and is now being run by his wife Peggy and son Tomás who is now the Pharmacist. We have a very personal Pharmacy business and are here to serve our customers. We are one of the longest established Pharmacies in Dublin 2 and are always available for advice or to assist customers in any way.
Conefrey's Pharmacy is a family run Chemist on Pearse Street in Dublin City Centre.
We offer a wide range of services, including dispensing of prescriptions and over-the-counter medicines. We stock a wide range of cosmetics, passport photographs and toiletries. We are now offering a Flu Vaccination service in our private consultation room.
Phone Number: +353-1-677-3234
Address: 136 Pearse Street, Dublin 2, Ireland
Map: click here
Last Updated:
November 19, 2013