Contributing Experts
Daniel Domingue, DDS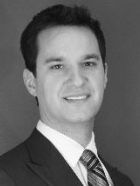 Visit:
Dr. Daniel Domingue was born and raised in Lafayette, LA. He graduated from St. Thomas More in 1999 and went on to receive his Bachelor of Science degree from Louisiana State University in Baton Rouge and his DDS degree from the LSU School of Dentistry in New Orleans.
While spending three years in advanced training at Brookdale University Hospital and Medical Center in New York City, he served as Chief Resident of the Dental and Oral Surgery Department. His training included one year in Advanced General Dentistry and two years in Dental Implantology.
During these years, he was awarded the Certificate of Achievement from the American Academy of Implant Dentistry for outstanding leadership in Implant Dentistry, a Fellowship from the International Congress of Oral Implantologists, and an Associate Fellowship of the American Academy of Implant Dentistry. Dr. Domingue was also awarded Diplomate from the American Board of Oral Implantology, the highest award possible for a general dentist practicing implantology. He was also recognized as the youngest recipient of this award in the entire world.
Dr. Domingue was later given a Mastership and Diplomate award from the International Congress of Oral Implantology for his outstanding work in Implant Dentistry. Dr. Domingue is a member of the American Dental Association as well as the Acadiana District Dental Association. He is also an active member of the American Academy of General Dentistry.
After completing his residency program, Dr. Domingue married the love of his life, Megan, in Denver, CO. They decided to move back to Louisiana to settle down, practice dentistry, and raise their family. On August 2nd, 2012, he and Megan were blessed with their first-born baby girl, Elle Ann Domingue.
After practicing for three years in Lake Charles, Dr. Domingue accepted an offer from his uncle, Dr. Smith, to become a partner in his practice. This proved to be a great opportunity for he and his family to move back home as well as to join his uncle's practice and carry on a tradition established more than 30 years ago.
Dr. Domingue and his wife are excited to be back in Lafayette with family, friends, food, and the rich culture.
Last Updated:
November 13, 2013