Contributing Experts
Dave Rebeck, RPh, DPh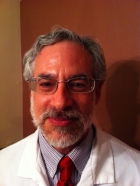 David Rebeck, RPh received his BS Pharmacy from the Ohio State University in 1984 and holds licenses to practice in Ohio and Oklahoma. He currently works as a retail pharmacist in Barberton, Ohio.
His particular interests include pain management, anxiety disorders, hypertension, addiction issues and the use of natural products in conjunction with traditional therapies. He specializes in MTM case management and Adult Immunizations.
Dave holds the traditional belief that community pharmacists can have a significant and positive impact on the health of their patients by approaching each case individually and with an open mind. He has learned a great deal just by listening to what his patients have to say about their health. Dave has over 25 years of experience in retail and nursing home pharmacy and is the author of the e-novel Vine of the Soul.
Last Updated:
February 14, 2014