Contributing Experts
Ernst Lengyel, M.D., Ph.D.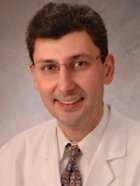 Visit:
Dr. Lengyel is a Professor of Obstetrics/Gynecology at the University of Chicago Medical Center. He is an expert in the diagnosis and treatment of gynecologic malignancies--specifically, ovarian, cervical and endometrial cancers.
His primary clinical focus is on the treatment of ovarian cancer, including advanced surgical techniques designed to improve patient outcomes.
Dr. Lengyel performed the University of Chicago's first laparoscopic pelvic and para-aortic lymph node dissection for gynecologic cancer. He also performs radical vaginal trachelectomy (RVT) to preserve fertility in young patients who have cervical cancer.
Dr. Lengyel has been recognized by Chicago magazine as one of the city's "Top Doctors" for ovarian and cervical cancer care. He is also skilled in complex pelvic surgeries for benign gynecologic conditions, such as endometriosis and fistula repairs.
Dr. Lengyel's research laboratory in the Center for Integrative Science focuses on the investigation of new therapies for the treatment of ovarian cancer. His research is funded by the National Institutes of Health (NIH). In addition to clinical and research activities, Dr. Lengyel mentors residents and postdoctoral fellows in the Department of Obstetrics and Gynecology.
Last Updated:
May 31, 2013