Contributing Experts
Fredika Robertson, Ph.D.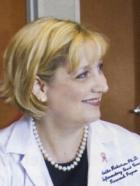 Visit:
Dr. Robertson is a Professor in the Department of Experimental Therapeutics and The Center for Targeted Therapy at The University of Texas MD Anderson Cancer Center.
Additionally, Dr. Robertson is on the graduate faculty at The University of Texas Graduate School of Biomedical Sciences, and has a joint appointment with the MD Anderson Department of Breast Medical Oncology, Division of Cancer Medicine.
The research in Dr. Robertson's laboratory is directed at understanding the genomic and proteomic alterations that are hallmarks of cellular transformation in the breast, skin and head and neck. She specifically is focusing on defining the mechanisms of metastasis associated with locally advanced breast cancer, with the goal of identifying targeted therapeutics that increase patient survival.
She has a strong interest in using proteins and peptides identified by proteomic analysis for development of approaches for earlier detection of tumors and as targets for development of novel therapies for specific tumor types which match their specific characteristics, post-transcriptional mechanisms regulating gene expression.
In addition, her laboratory is also involved in multidisciplinary studies to use nanotechnology platforms as a means to accelerate development of diagnostics and therapeutic modalities for use in translational research and ultimately for clinical use.

Last Updated:
May 30, 2013