Friendship Pharmacy, Inc.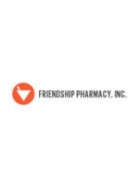 Visit:
Friendship Pharmacy, Inc. is a small family owned pharmacy located in NE Philadelphia. We have been serving NE Philadelphia for over 30 years
We provide home delivery, health fairs, cards for all occasions, soda and sundries. Counseling services for diabetes, hospice provider, blood glucose testing, hypertension, cholesterol, obesity, immunizations, tobacco cessation, osteoporosis, and medication therapy management (MTM).
Earl Jones, RPh opened Jones' Pharmacy in 1946 on the corner of Cottman and Rowland Avenues. Some time after that Irving Tannenbaum, RPh, the original owner of Friendship Pharmacy, (which was located on Friendship street) acquired Jones' Pharmacy. He then combined the two stores and chose Mr. Jones' Pharmacy's as the location of the new Friendship Pharmacy. It originally housed a soda fountain and ice cream parlor.
In the summer of 1977, Francis A. Rubino, RPh purchased the pharmacy from Mr. Tannenbaum and kept the name. He built the pharmacy into a true family pharmacy with his patients' safety and wellness at the center. Currently Friendship Pharmacy, Inc. is a full-service, family run pharmacy owned by Francis A. Rubino's son, Frank R. Rubino RPh. Frank R. Rubino works along side his two sons: Francis Al. Rubino, PharmD, his son Anthony, and his wife Barbara. As well as Denis McGurk, who began working for the family pharmacy 20-some years ago at age 16. At Friendship Pharmacy, Inc., our customers and staff are apart of our family. And family is everything.
Phone Number: 215-624-0440
Address: 3300 Cottman Avenue, Philadelphia, PA 19149
Map: click here
Last Updated:
November 13, 2013