Contributing Experts
James Farrell, M.D.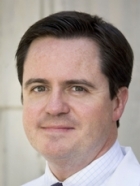 Visit:
Dr. James Farrell is the Director of the Yale Center for Pancreatic Disease and Endoscopic Oncology at the Yale University School of Medicine in New Haven, CT, and an Associate Professor of Medicine.
In addition to being a practicing clinical gastroenterologist, Dr. Farrell is a board certified clinical pharmacologist, interventional endoscopist and clinical and translational researcher focused on pancreatic cancer.
He is a member of the 2012 American Association for Cancer Research (AACR) Scientific Program Committee, PANCAN Medial Advisory Board and the NIH/NCI National Panceras Cancer Task Force. Dr. Farrell has authored dozens of articles and scientific abstracts in the field of pancreatic cancer early diagnosis and treatment, pancreatic cysts and treatment predictive biomarkers. He speaks on clinical topics at local, national and international meetings to both professional and lay audiences.
Last Updated:
May 30, 2013