New Era Care Pharmacy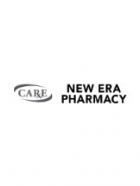 Visit:
We are rooted in the community, understand your needs, and CARE about your family. All CARE Pharmacies are owned and operated by a pharmacist that lives near you — where CARE matters most. Our pharmacists are trained in handling difficult prescription issues, understand the needs of chronic care patients, and know the real meaning behind the word CARE.
New Era CARE Pharmacy is now fulfilling prescriptions in YOUR neighborhood! We are proud of our commitment to the quality service and individualized attention we provide.
At New Era, your health is important to us. That's why we provide The Places – full of products, supplies and information you need to take care of yourself, and your loved ones.
Visit New Era CARE today and enjoy: The Diabetes Place, The Home Healthcare Place and The Women's Health Place.
Phone Number: 301-808-4361
Address: 1436 Addison Road South, Capital Heights, MD 20743
Map: click here
Last Updated:
November 14, 2013