Patrizia Taddei-Allen, Pharm.D.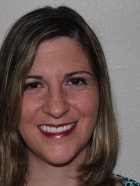 Dr. Taddei-Allen is a Clinical Assistant Professor and Regional Coordinator for the University of Florida College of Pharmacy Office of Experiential Programs, acting as a liaison between the college, Advanced Pharmacy Practice Experience (APPE) students, and APPE preceptors.
She has also worked in community pharmacy since graduating with her Pharm.D. from the University of Florida in 2007.
Last Updated:
November 19, 2014