Contributing Experts
Rick Balotti, M.D.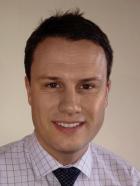 Visit:
Dr. Balotti is a Pain Management Specialist in New York City. A graduate of Washington University and Drexel University College of Medicine, Dr. Balotti completed a residency in Physical Medicine and Rehabilitation, and a fellowship in Pain Medicine, both at the University of Medicine and Dentistry of New Jersey, where he served as Chief Resident.
Dr. Balotti is Board Eligible in both Physical Medicine and Rehabilitation and in Pain Medicine. Dr. Balotti treats patients with a broad spectrum of pain conditions, utilizing the latest developments and techniques to manage patients' pain. He uses a wide variety of treatment options, including interventional procedures, medications, and other pain relieving therapies.
He is trained in, and performs, the full spectrum of fluoroscopically-guided interventional pain procedures, including epidural steroid injections, epidural lysis of adhesions, radiofrequency ablation, and spinal cord stimulator placement.
Dr. Balotti speaks fluent Spanish. He lives in New York City with his wife, and enjoys fitness, the outdoors, travel, and reading.

Last Updated:
October 8, 2012