Seat Pleasant Care Pharmacy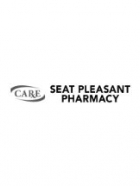 Visit:
We are rooted in the community, understand your needs, and CARE about your family. All CARE Pharmacies are owned and operated by a pharmacist that lives near you — where CARE matters most. Our pharmacists are trained in handling difficult prescription issues, understand the needs of chronic care patients, and know the real meaning behind the word CARE.
To best serve our community, SEAT PLEASANT DRUG, a CARE Pharmacy provides Patient Destination Places – special sections that provide products, educational tools, and resources for specific diseases or conditions. Check out our department places list in the in the PLACES section!
We also offer Diabetes Day events throughout the year that include seminars and demonstrations.
Shop for trusted brands, hard-to-find quality products and equipment.
Trust our certified, expert pharmacists and trained technicians to help you and your family find the right solutions to all of your medical needs.
Plus FREE DELIVERY! Get ALL your medical needs delivered right to your door steps.
The pharmacist you know. The CARE you deserve.
Phone Number: 202-396-3400
Address: 354 Eastern Avenue NE, Washington, DC 20019
Map: click here
Last Updated:
November 13, 2013