Contributing Experts
Tom Schnorr, RPh, CCN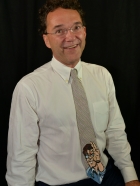 Visit:
Tom Schnorr, owner of Apothecary Shop Pharmacy and Austin Compounding Pharmacy, graduated from the University of Houston School of Pharmacy and received his Pharmacy License in 1980. After graduation, Tom spent several years each working in HIV/AIDS care, practicing in retail, hospital pharmacy, and home infusion therapy.
Historically, pharmacists learned to create medications according to a physician's exact specifications. In pharmacy school Tom was instructed in the compounding of medications from "scratch." He continues to add to this knowledge as he directs the compounding of bio-identical hormones, pain medications, veterinary medications, and cosmeceuticals.
Tom acquired board certification in Clinical Nutrition and since has been hosting seminars in nutrition, BHRT and compounding in the Austin area.
Last Updated:
March 11, 2015