Total Life Care Compounding by Lakeside Pharmacy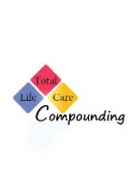 Visit:
Total Life Care Compounding is the drug compounding department of Lake Side Pharmacy located in Cedar Bluff AL. We provide highly specialized and unique options for patients and providers to increase quality of life.
Our main focus is establishing our expertise within the Patient-Physician-Pharmacist Triad relationship in creating solutions and access to viable therapeutic options to increase the health and wellness of patients. Our concentration lies in providing patients and physicians safe and pharmacoeconomic medications through the practice of "Traditional" compounding.
In the era of personalized medicine new technologies and pharmacy techniques in compounding offer the physician another alternative in providing therapies to fit the unique needs of their patients when mass-produced products are no longer an option.
Our growth has been and is being achieved by the dedication of our highly trained pharmacists, technicians, and staff in providing customer satisfaction through the pursuit of excellence, professionalism, trust, respect, and integrity. We believe by living and exhibiting these values we have been able to establish a registry of customers that are experiencing the quality and outcomes you expect and deserve.
Phone Number: 888-739-8997
Address: 10005 AL Highway 9 North, Cedar Bluff, AL 35959
Map: click here
Last Updated:
November 15, 2013